Available for a limited time only
GIVE THE GIFT OF GLOWING SKIN
Get the perfect skincare duo for Black Friday!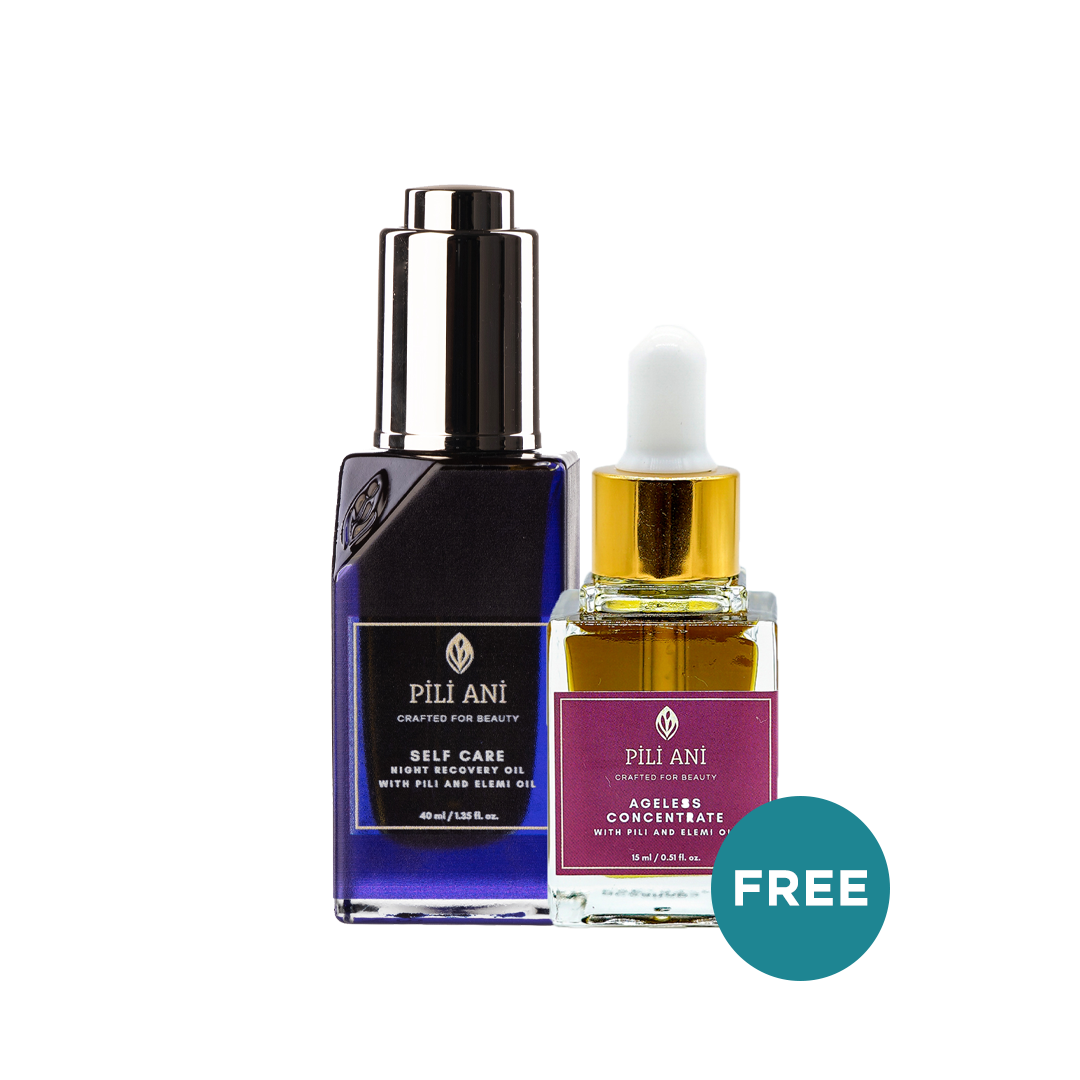 Buy a 40ml Self-care Night Recovery Oil
and get 15ml Ageless Concentrate for free
Pili Ani's Self-care Night Recovery Oil is supercharged with a powerful blend of botanical extracts that work overtime overnight. This power packed night oil is the game-changing skincare addition you've been waiting for.
What you're getting for free: a 15ml Ageless Concentrate Oil. Ageless Concentrate is a lightweight serum that effortlessly sinks right into your skin and delivers instant results. This bottle of liquid gold is the ultimate fountain of youth. Normally at $32, you're getting this for free when you order Self-care Night Recovery Oil.
---
Self-care Night Recovery Oil
Give your skin the nutrients it needs to wake up visibly healthier, more youthful, and glowing. Your evening skincare ritual is just as important as your morning routine, and Self-care Night Recovery Oil features a powerful blend of superstar ingredients to heal, repair, and rejuvenate your skin while you sleep. Getting your beauty sleep just got a whole lot more enjoyable.
Smooths wrinkles, neutralizes redness, and minimizes the appearance of pores
Restores your skin's texture to promote a softer, more supple complexion
Helps bring back a firmer, more lifted appearance to the complexion
Boosts your skin's hydration to prevent the moisture loss that typically happens overnight
Promotes visibly younger, luminous, glowing skin
Reverses signs of aging while you sleep
Calms and relaxes you with a light lavender scent
Pili Oil: Hand pressed from the pulp of the Pili fruit, this superfood for the skin contains potent antioxidants, vitamins, carotenoids, and essential fatty acids to revitalize your complexion. Pili Oil is rich in antioxidants that protect and help heal your skin from UV damage, toxins, pollutants, and free radicals. Not only is Pili Oil more moisturizing than the argan oil, coconut oil, and jojoba oil you may have tried already; it absorbs into the layers of your skin effortlessly to rejuvenate your skin from deep within.
Elemi Oil: Extracted from the bark of the Pili Tree, Elemi Oil is a sought after antiaging ingredient indigenous to the Philippines. Due to its antibacterial and anti-inflammatory properties, Elemi Oil naturally reduces redness, irritation, and breakouts while speeding up the healing time of existing blemishes. Like a facelift in a bottle, Elemi Oil firms, tightens, tones, lifts, and smooths the surface of aging skin while improving overall elasticity.
Squalane: Encourages the production of collagen to prevent skin from sagging and achieve a plump, youthful look.
Sampaguita: Known for its soothing and anti-inflammatory properties, this species of Jasmine flower native to the tropical regions of Asia is also the national flower of the Philippines! Sampaguita improves uneven skin tone, fades dark spots, and protects skin from environmental stressors.
Lavender: Reduces redness and soothes irritation while its calming scent lulls you to sleep. Lavender's light scent is relaxing, has been known to reduce stress and anxiety, and promotes a good night's rest.
Calendula: Has antifungal, antibacterial, and anti-inflammatory properties to soothe irritation and prevent future breakouts.
Vegan
Cruelty free
Fair trade
Non-comedogenic
All natural ingredients
What people say about the Self Care Night Recovery Oil
I received a sample of this oil in this month's Allure box and liked it so much that I immediately ordered the full size.
Fonda H.
22 NOV 202a, 12:21
My daughter suffers from extremely sensitive skin and severe eczema. She has a very hard time finding products that dont bother her skin but also nourish it. I gave her this to try out of my Allure beauty box - and she is In LOVE. She keeps making me touch her face. Needless to say I am purchasing the full size as a Christmas gift for her. Well done!
Sarah W.
14 NOV 2021, 14:42
The absolutely lovely scent of lavender and Philippine jasmin immediately calms my mood and the effect of the oil is amazing . Its non greasy and i woke up with baby smooth skin . Im not kidding when i said my skin feels like a baby's bum .
Carol G.
1 NOV 2021, 14:42